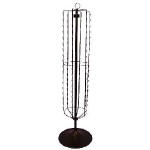 Holds 108 Small Bags of Chips
Clipper Floor Display Features: • Durable powder coat finish • 108 Clips on 6 Strands • Sturdy, lightweight & portable • Stable base design • Smooth spinning on ball-bearing hardware • Sign holder included Size: Stands 62"H x 17" Base
---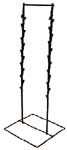 Free Shipping
Features: 2 Rows of clips on both sides, 13 Clips per row, Displays bagged merchandise on both sides, Holds 26 bagged items, Size: Double wire strand, Size: 8.5"Wide x 8"Deep x 22"High, Color: Black Red White
---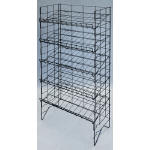 Compatible with Large Bags of Chips
Five Tier Adjustable Wire Chip Rack available in Black or White Adjustable shelves in two positions flat and at a down slope angle. Dimensions: 52 High X 24 1/2" wide X 12 1/2" Deep
---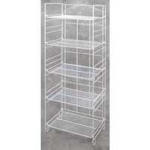 Compatible with Large Bags Chips
5-Tier Adjustable Merchandiser Features: • Foldable design • Adjustable shelves • Built-in rear sign holder • Solid construction • Quick assembly SIZE: 53"H x 18" W x 12¼" D COLOR: Black, White
---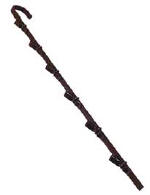 Includes several clips securely to a steel rod with a useful hook for hanging.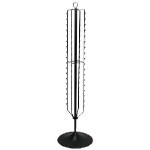 Holds 72 Small Bags of Chips
Clipper Floor Display Features: • Durable powder coat finish • 72 Clips on 4 Strands • Sturdy, lightweight & portable • Stable base design • Smooth spinning on ball-bearing hardware • Sign holder included Size: Stands 62"H x 17" Base
---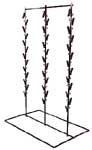 Free Shipping
Features: 3 Rows of clips on both sides, 13 Clips per row, Displays bagged merchandise on both sides, Holds 39 bagged items, Triple wire strand, Size: 14.5" Wide x 9.5" Deep x 22" High, Color: Black Red White
---
Used to Display Bulk Amounts of Large Bags of Chips.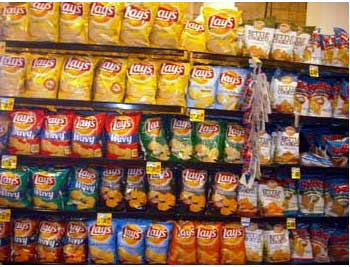 The Gondola Chip Display utilizes the following components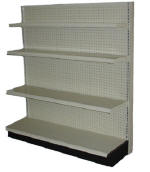 A wall Gondola shelf section in required and can be extended with add on sections to make displays as long as needed in three and four foot sections. Recommended size is a 6" high X 20" Deep.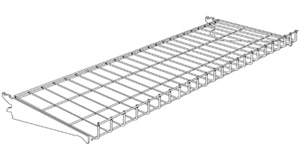 Wire type shelves are added to the described shelving system on the left to accommodate small to large Potato Chip Bags.
The wire shelves are utilized to prevent the build up of dirt.
---