Slatwall Display Hooks and scanner hooks used for holding price tags. for pegboard backing
---

The solution for maintaining separation of school, office and art supplies. Dividers are 3 3/4" wide x 7 3/4" high x 6 3/4" deep. The dividers clip into front shelf perforations. Minimum product width is 6". End dividers are sold separately and in pairs.
---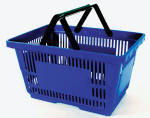 Available for most any Retail Stores, 99 Cent Stores, Hardware Stores, Convenience Stores and more.
| | |
| --- | --- |
| Floor and counter chip displays. | Counter candy displays available. |
---

-
Four Way Island, I Shaped, H Shaped, and T Shaped wire grid island type displayers for all types of merchandise.
---

Many sizes available in 48" heights, 60" heights, and 84" heights, with widths available in 12" widths, 24" widths, and 48"


Paper display racks for the office, retail sales, and the scrapbooking hobby
---
Floor Counter Spinner Displays
Spinner displays are effective in small retail stores that do not have a lot room.

Power Wing Panels Features: • 1" spacing between wires? • Solid side rail design? • Lightweight, nests for compact shipping? • Mount with cable ties or optional mounting kits Size: 16"W x 48"H Color: White
---

Wire shelves, baskets and more for Grid Displays and Wire Grid Systems
---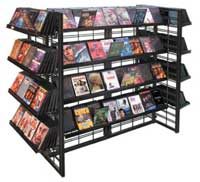 ---
---
---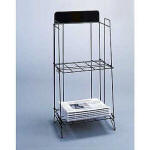 All steel constructed wire display racks for all types of literature such as a tabloid, newspaper, and magazine.

Dump bins feature: an attractive type of display, excellent merchandiser for high traffic areas, and space saving design.
---

Post Card Displays for the counter and free standing floor displays constructed from wire steel with a spinning base and base.
---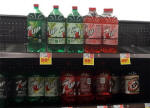 Ideal for merchandising bottled 1 liter soft drinks. It is available for either two or three liter bottles. Both options hold 30 bottles and includes a sign holder that extends above the unit. Sign holder will accommodate customer-supplied signage.
---

Gondola Countertops are great for Convenience a Store, Gas Station, or Liquor Store cash register counter that will also display small products such as Candy, Beef Jerky, Potato Chips, and also Counter Spinners on the top of the countertop.
---

The Wire Wine Display is capable of holding several varieties of wine bottles. The two top slanted stationary shelves facilitate the consumers ability to see the labels of the wine bottles that may be stacked in the wire bins below.

Signs that mount on to most of our wire display grid panels, wire panels and display systems.
---

Display magazines or other literature with this easy-to-install rack. Install by placing welded hooks over the open tubing of an end frame. Contains four individual pockets to display multiple magazines or other publications.
---

Warehouse pallet rack system for forklift type pallets designed for regular duty and heavy duty.
---

What is happening in your store while you are not there? Affordable Surveillance Camera Systems available that any business can afford.
---